Free A-Z Cursive Capital Letters Worksheets
We have prepared worksheets with individual letters for your practice. Each worksheet shows the letter formation as well as dotted letters for you to trace on. There are also many empty boxes for you to write the letter on your own. You can also practice a pattern where the letter is repeated twice.
Click on the PDF links below to download the worksheets.
All Capital Letters Worksheet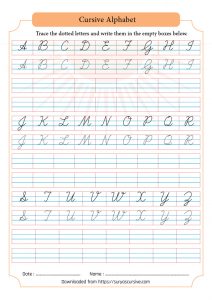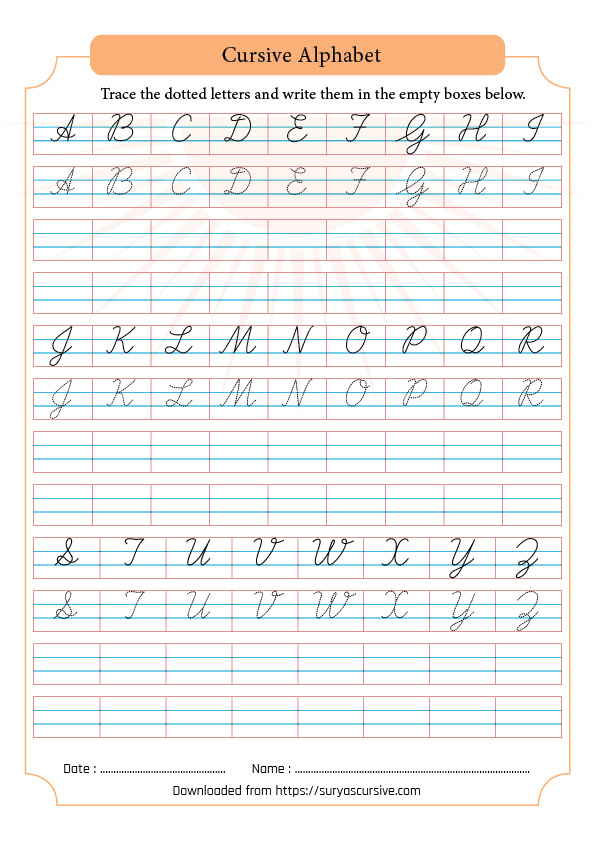 Download All Capital Cursive Letters Worksheet
[PDF, 26 pages, 13.5MB]
Also see: Lowercase Cursive letter Worksheets
Download Individual Worksheets
Capital Letter – A

Download Cursive Capital Letter A Worksheet [PDF, 1 page, 550KB]

Learn to write Capital Letter A in Cursive
Capital Letter – B

Download Cursive Capital Letter B Worksheet [PDF, 1 page, 550KB]

Learn to write Capital Letter B in Cursive
Capital Letter – C

Download Cursive Capital Letter C Worksheet [PDF, 1 page, 550KB]

Learn to write Capital Letter C in Cursive
Capital Letter – D

Download Cursive Capital Letter D Worksheet [PDF, 1 page, 550KB]

Learn to write Capital Letter D in Cursive
Capital Letter – E

Download Cursive Capital Letter E Worksheet [PDF, 1 page, 550KB]

Learn to write Capital Letter E in Cursive
Capital Letter – F

Download Cursive Capital Letter F Worksheet [PDF, 1 page, 550KB]

Learn to write Capital Letter F in Cursive
Capital Letter – G

Download Cursive Capital Letter G Worksheet [PDF, 1 page, 550KB]

Learn to write Capital Letter G in Cursive
Capital Letter – H

Download Cursive Capital Letter H Worksheet [PDF, 1 page, 550KB]

Learn to write Capital Letter H in Cursive
Capital Letter – I

Download Cursive Capital Letter I Worksheet [PDF, 1 page, 550KB]

Learn to write Capital Letter I in Cursive
Capital Letter – J

Download Cursive Capital Letter J Worksheet [PDF, 1 page, 550KB]

Learn to write Capital Letter J in Cursive
Capital Letter – K

Download Cursive Capital Letter K Worksheet [PDF, 1 page, 550KB]

Learn to write Capital Letter K in Cursive
Capital Letter – L

Download Cursive Capital Letter L Worksheet [PDF, 1 page, 550KB]

Learn to write Capital Letter L in Cursive
Capital Letter – M

Download Cursive Capital Letter M Worksheet [PDF, 1 page, 550KB]

Learn to write Capital Letter M in Cursive
Capital Letter – N

Download Cursive Capital Letter N Worksheet [PDF, 1 page, 550KB]

Learn to write Capital Letter N in Cursive
Capital Letter – O

Download Cursive Capital Letter O Worksheet [PDF, 1 page, 550KB]

Learn to write Capital Letter O in Cursive
Capital Letter – P

Download Cursive Capital Letter P Worksheet [PDF, 1 page, 550KB]

Learn to write Capital Letter P in Cursive
Capital Letter – Q

Download Cursive Capital Letter Q Worksheet [PDF, 1 page, 550KB]

Learn to write Capital Letter Q in Cursive
Capital Letter – R

Download Cursive Capital Letter R Worksheet [PDF, 1 page, 550KB]

Learn to write Capital Letter R in Cursive
Capital Letter – S

Download Cursive Capital Letter S Worksheet [PDF, 1 page, 550KB]

Learn to write Capital Letter S in Cursive
Capital Letter – T

Download Cursive Capital Letter T Worksheet [PDF, 1 page, 550KB]

Learn to write Capital Letter T in Cursive
Capital Letter – U

Download Cursive Capital Letter U Worksheet [PDF, 1 page, 550KB]

Learn to write Capital Letter U in Cursive
Capital Letter – V

Download Cursive Capital Letter V Worksheet [PDF, 1 page, 550KB]

Learn to write Capital Letter V in Cursive
Capital Letter – W

Download Cursive Capital Letter W Worksheet [PDF, 1 page, 550KB]

Learn to write Capital Letter W in Cursive
Capital Letter – X

Download Cursive Capital Letter X Worksheet [PDF, 1 page, 550KB]

Learn to write Capital Letter X in Cursive
Capital Letter – Y

Download Cursive Capital Letter Y Worksheet [PDF, 1 page, 550KB]

Learn to write Capital Letter Y in Cursive
Capital Letter – Z

Download Cursive Capital Letter Z Worksheet [PDF, 1 page, 550KB]

Learn to write Capital Letter Z in Cursive