Cursive Strokes Worksheet
Learning strokes is the first step to learn cursive writing. These practice curves are essential to understand letter formation in cursive writing. These include crucial curves that are very helpful in cursive writing. Practicing these would exercise your hand as well as train your brain towards cursive shapes within the ruled line.
In this course, you will learn the following strokes
Circle
Left Half Circle
Right Half Circle
Top Half Circle
Bottom Half Circle
Right-up Small Curve
Right-up Long Curve
Top-right Small Curve
Top-right Long Curve
Thread curve
Small Slant Line
Long Slant Line
J-Curve
L-Curve
M-curve
Worksheet
We have prepared a worksheet for you to practice these curves. Click on the link below to download the worksheet.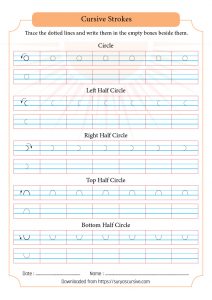 Download

Cursive Strokes Worksheet [PDF, A4-size, 3 pages, 2.1MB]
Next in the Learning Line
---
Free 15-day Cursive Writing Course
For cursive enthusiasts like you, we have developed a Free 15-day Cursive Writing course with a day-wise schedule on this website. By following that sequence and practicing with our printable worksheets, you can see a clear improvement in your cursive writing very soon.