Free 15-day Cursive Writing Course
Free 15-day Cursive Writing Course
Cursive Capital Letters U, V, W, X, Y, Z
In this lesson, we will learn the capital letters U, V, W, X, Y, Z. Look at the letter formations below.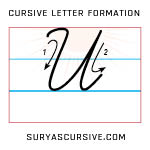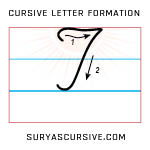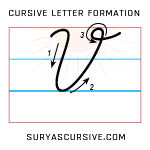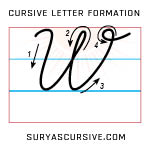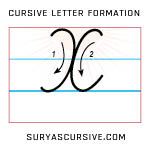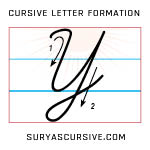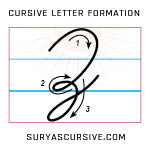 To practice these letters, we have prepared worksheets for you. These are already included as part of our "Surya's Cursive Writing Kit". You might want to purchase the kit to complete this lesson.
Alternatively, you can take print outs of these worksheets from our Printable Worksheets section.
If you have some time after completing today's lesson, let us give some more exercise to your hand by practicing longer words. Try to complete the 8-letter words worksheets from Practice Book 4 (Pages 14 to 20). This book is included in your Cursive writing kit as well.