Free 15-day Cursive Writing Course
Free 15-day Cursive Writing Course
Planning to Learn Cursive
Before learning our cursive course, you should have a few things in place.
1. Understanding of English Alphabet
You should have an understanding of English letters in printed format. Look at this Wikipedia article on English Alphabet to understand the alphabet.
2. Printed Cursive Worksheets
Every learning item in our day-wise learning schedule has worksheets that you have to download for your practice.  You should have the following printed worksheets. Click on these links to download the PDF files.
Letters taught in this course are available as printable worksheets in our Printable Worksheets section as PDF files. You can download, print them, and keep them handy for this course.
All the worksheets in this course are also included in our "Surya's Cursive Writing Kit". Click on the image below to purchase our kit.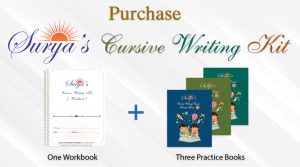 3. Pencil and an eraser
You have to use a pencil and eraser while writing cursive. Writing with a pencil is easier because you can erase your mistakes with an eraser
Do not directly use a pen to write cursive for some time. Use a pen when you are sure that you won't write any mistakes.
4. An hour of dedicated time
You should have dedicated at least 1 hour of time in your day to learn the course and complete the worksheets. Fixing a timeslot, such as 7AM to 8AM or 6PM to 7PM in your day would help you to maintain continuity and consistency in your learning.
Next
Click here to start learning Cursive Strokes >>